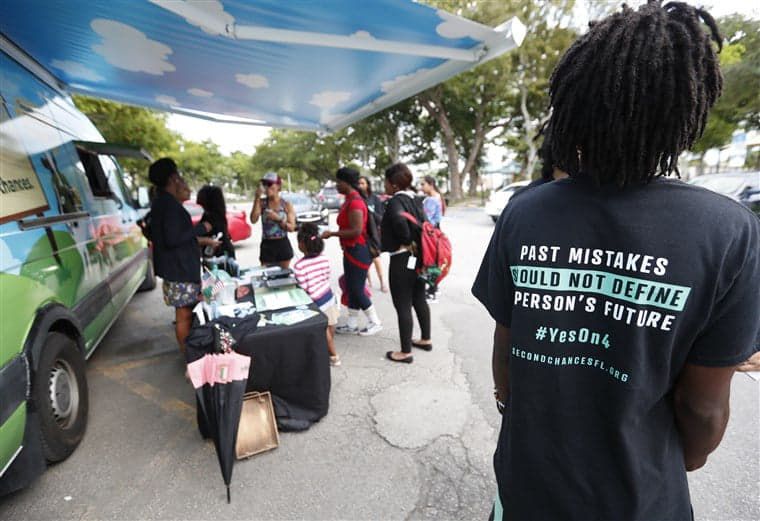 Ben & Jerry's "Yes on 4" truck at Charles Hadley Park in Miami on October 22, 2018 - Wilfredo Lee/ AP file
The Florida Amendment 4 Voting Rights Restoration For Felons Initiative has been under attack & in and out of the news since it was passed in 2018. Outraged by the blatant attempt of Gov. DeSantis to block this voting rights victory, I decided to re-familiarize myself with the history & current status of the amendment and see if there is anything I could do to help....this blog is my homework passed on to you so you can get involved too!
"The vote is precious.It's almost sacred...the vote is the most powerful nonviolent tool we have." JOHN LEWIS
There is a conspicuous form of  voter suppression happening right before our eyes in Florida and I think we need to make more of a stink about it! 
Those who know me, know that I have a particular soft spot in my heart for ex-felons who are being reintroduced into society. When I was 19 years old I worked with the homeless on the streets of NYC and eventually developed a program called Shepherd's Flock, which became an official alternative to incarceration for those who struggled with addiction. Most of the men I worked with were people of color and many were felons who were working off their debt to society. I observed that the more engaged they became in society, the less likely they were to go back to a life of addiction, crime and imprisonment. This included pursuing educational opportunities, quality jobs, getting involved in church or community programs and getting involved in the democratic process, including voting.                                                                              
This brings me to the need I feel to sound the alarm concerning the voter suppression crisis happening in real time in my State of Florida!
Okay, so let's look into the boring, but extremely important timeline & current disappointing status of The Florida Amendment 4.... 
▪Florida has the most disenfranchised citizens in the United States...10.43% of the Florida population in fact, that's 1,686,318 total Floridians. A disproportionate amount being people of color....23.3% of black voters in Florida can't vote because of felony disenfranchisement. With that in mind, it's important to note that 87% of African-Americans overwhelmingly register Democratic.(pro-con.org)                                                                                           
▪Before 2018, people with prior felonies never regained the right to vote in Florida -- unless a state board restored an individual's voting rights. 
▪Amendment 4 was designed to automatically restore the right to vote for people with prior felony convictions (excluding those convicted of murder or felony sexual offense) upon completion of their sentences, including prison, parole, and probation. 
▪ Florida Amendment 4 was on the ballot in Florida as an initiated constitutional amendment on November 6, 2018. 
▪ A 60 percent supermajority vote was required for the approval of Amendment 4, 64.55% voted yes. It was approved. 
▪To put the potential of this now empowered voting group into perspective.... The margin-of-victory in the 2010 & 2014 Florida gubernatorial elections was 1.2 percent. For presidential elections, it was 0.9 percent in 2012 & 1.2 percent in 2016. With 10.43 percent of the voting age population once disenfranchised due to felonies now potentially able to vote and most of these would be Democrat votes...it can turn multiple races Blue! 
Is it no wonder that this amendment, that has already been passed successfully, came under attack by a team of Republicans led by Gov DeSantis.             
So, this is where it gets ugly.... 
Implementing Amendment 4: 
.Florida Governor Ron DeSantis (R) said that Amendment 4 would require the Florida State Legislature to pass implementing legislation for the amendment before it could take effect. The Florida Legislature convened on March 5, 2019. Florida Secretary of State Ken Detzner (R) said, "We need to get some direction from the Legislature as far as implementation and definitions" Proponents of the measure said that the initiative's language is self-executing and did not require implementing legislation. 
▪ Florida Senate Bill 7066 (SB 7066) was signed into law by Florida Governor Ron DeSantis (R) on June 28, 2019. SB 7066 was designed to implement parts of Amendment 4 of 2018. Most notably, SB 7066 was designed to require convicted felons to complete "all terms of sentence" including full payment of restitution, or any fines, fees, or costs resulting from the conviction, before they could regain the right to vote. Lawsuits were filed against Senate Bill 7066, in which plaintiffs argued that requiring payment of fines and fees before being able to vote was unconstitutional. 
▪On May 24, 2020, U.S. District Judge Robert Hinkle ruled that the state can prohibit felons from voting if they have outstanding legal financial obligations (court fees, restitution, fines) that they are able to pay, but that the state CANNOT prohibit a person from voting if they have outstanding legal financial obligations that they are unable to pay. 
▪ On July 2, 2020, the U.S. Court of Appeals for the 11th Circuit blocked Hinkle's May 24 ruling and said the court would hear arguments in the case in August 2020. 
▪On July 16, 2020, the United States Supreme Court declined to vacate the 11th Circuit's stay. A majority opinion was not provided. Justices Sonia Sotomayor, Ruth Bader Ginsburg, and Elena Kagan dissented, writing, "This Court's order prevents thousands of otherwise eligible voters from participating in Florida's primary election simply because they are poor. And it allows the Court of Appeals for the Eleventh Circuit to disrupt Florida's election process just days before the July 20 voter-registration deadline for the August primary, even though a preliminary injunction had been in place for nearly a year and a Federal District Court had found the State's pay-to-vote scheme unconstitutional after an 8-day trial. I would grant the application to vacate the Eleventh Circuit's stay."( All above timeline from Ballotpedia.com Florida Amendment 4, Voting Rights Restoration for Felons Initiative) 
THIS IS BAD NEWS.... 
While we await the continuation of arguments sometime this month (August),it's become clear that this is a bold attempt by the powers that be, to prevent a people group from voting for biased political purposes and since a disproportionate amount of these felons are Black,it is a modern day form of Black Voter Suppression, as these who have been cleared to vote by a majority, will not get to vote in primaries unless fines are paid & may not be cleared by November. 
NOW FOR THE GOOD NEWS.... 
Enter...Florida Rights Restoration Coalition(FRRC)! 
An organization developed to cover the fines of returning citizens who cannot otherwise afford to pay them off so they may vote! 
Basketball Superstar LeBron James is committed to work alongside the FRRC with his MORE THAN A VOTE project... an organization committed to fighting Black Vote Suppression. 
"We believe that your right to vote shouldn't depend upon whether or not you can pay to exercise it, which is why More Than A Vote is proud to partner with the Florida Rights Restoration Coalition to ensure that formerly incarcerated American citizens—many of them Black and brown—are able to pay their outstanding fines and fees and register to vote in the 2020 election and beyond," said Miami Heat forward and More Than A Vote member Udonis Haslem. 
Local lawyer hero Morgan & Morgan also committed $100,000 towards the FRRC 
NOW IT'S OUR TURN!                                                                                                                                                                                                                       Here is a link to the FRRC whereby you can: 
▪DONATE to the funds to help ex-felons pay their fines so they may vote.                                                                                                                                       
▪DIRECT ex-felons to this link to receive these funds so they may vote. 
▪GET ON THEIR MAILING LIST so you can keep in touch with this important social justice situation! 
I am currently producing a line of shirts called ACTIV.IST WEAR. The first in this shirt line will be John Lewis quotes and since he championed voting rights, all profits will go to the FRRC fund for ex-felons....stay tuned. 
Artie Gardella 
Art&Activism 
386-931-3485