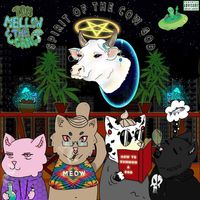 Dirty, gritty & bass bottom-heavy, with cranky guitar riffs, heavy-handed drumming and pissed off vocals...A Smash!!! Tom Mellow & the Gang,out of Orlando Florida, crush it with their debut ep SPIRIT OF THE COW GOD... download it immediately on your "syke me up for the show" playlist! Be warned, It's anything but mellow...captured & mixed down by Rugrat Records' Sloppy Jo, who had no easy task taking the Big Boi Chaotic Tom Mellow Sound and delivering it to us with individual representation of instrument & clear enough vocals without losing the Raw Garage Vibe that is so fitting for this Edgy Band.
True to their name, there is a liberal use of GANG Vocals, creating a High-Octane Ruckus Feel of a Rowdy House Show with a whole Lot Of Hubbub Happening...You are transcended into middle of the party and if played loud enough you may lose yourself thrashing about the house! I can't listen to it on the highway... I consistently end up driving too fast. Can't listen to it on my way to work... My fitness folks(I'm a senior fitness instructor by day) may end up with an impromptu moshing for health class, ha!
My point is this EP is a guilty pleasure... it's infectious! It drives you A-Loco Wild! This is why when TMATG join us on our Rugrat Stage, we put them on last,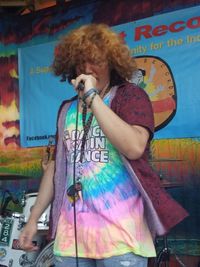 when getting ugly and ripping the roof off doesn't matter anymore. I first heard them at a Rugrat show last year... I was about to introduce them and when reading their name I was a bit put off--we opened up with singer-songwriter acts and I could tell the crowd needed a lift ... "Tom Mellow? oh geeze"  I thought "we don't need another mellow act!" Well, they jumped into rock mode and the place went nuts!  
Listen to this EP on 11,and please listen responsibly... as you Indulge Yourself On The Mayhem of Tom Mellow & The Gang!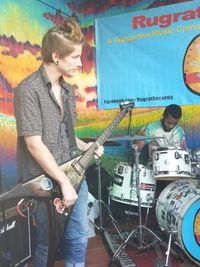 For CREATIVITY...i give it a 9/10...they brought us more than a 4 song EP, they delivered A ROCK OUT EXPERIENCE!  
For MARKETABILITY,well, if it is the underground arena a 9/10 but it is definitely Too Tough For The Tender Pallets Of The Milk Toast Mainstream! If FCC edited, it will,however, reach the college Hard Rock scene for sure!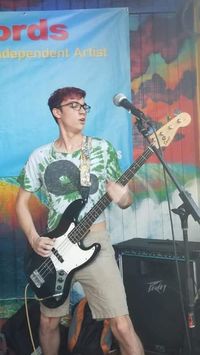 This band is great! One of my favorites in the Florida music scene! Follow their Pages, stream their music often and if playing live in your area, do not deny yourself a real TREAT...Check out there EP right now... and thank you for supporting DIY Independent Artists!  
Check out their bandcamp page here.
Art✌