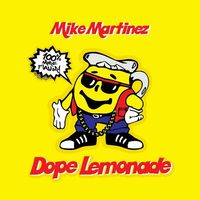 Chill beats, Catchy sampled loops, Clear lyrics with POSITIVE VIBES makes for a palatable listening experience even for an old time Head-Banger like me who is not too familiar with the Hip-Hop scene. I knew I was going to have to come to terms sooner or later with reviewing Rap music, because it has become an integral part of our local music scene here in Florida! 
I see this as a beautiful thing because it speaks of a GENERATIONAL MUSIC MOVEMENT that embraces artists as a whole and not in segmented genres. As in the Woodstock days of old, where singer-songwriters like Joan Baez and Crosby,Stills&Nash opened up for hard rock acts like The Who and Jimi Hendrix, followed by the cultural sounds of Santana and Sly&the Family Stone.... we also have a flourishing music scene here in Florida and all the Players of THE AGE are representing! This should make us all excited, because it is easier to ride a wave of a movement into the hearts of the masses then to pioneer a path as an individual artist! 
Mike Martinez, originally from Connecticut, began freestyle battling in his school cafeteria as a young 10 year old boy. At 18,inspired by underground Hip-Hop shows in Boston, he began his musical career as ACTONE, garnering local acclaim, featured on college radio and eventually setting up shop in Massachusetts under the name MIKE TWAIN. The drug culture associated with the music world eventually got the better of Mike and addiction began to plague his life,at one point,even leaving him homeless. Escaping to Florida for better things, he continued to rap from 2011 to 2014 under the name MIKE MURDERER for his Rabid output of Beats and Rhymes... he continued to struggle with addiction. In 2015 Mike had a spiritual awakening, committed his life to God and now Spits out a Spout of GRATEFUL reflections... Clean living, a loving wife, amazing children and THE BEACH LIFE...his rapture over this Beachfully Blissful life is heard throughout this EP and obviously the inspiration behind his own Beach Village Records. 
Dope Lemonade, like all of Mike's music, is not for sale, although donations are always accepted, this work is his Free Offering Ode to a SECOND CHANCE, for a completely new life that anybody can experience if you Let Go, Look Up & Reach Out with All Your Heart! 
listen to Mike's music = Get Happy! 
Give him a shout on his FB page and Thank You for supporting Independent/ DIY Artists. 
Art✌