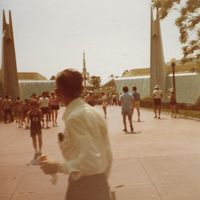 Impassioned vocals with curious words, buoyant melodies with no-nonsense breakdowns, arousing time changes, soulful harmonica riffs & an alluring magic saw... all taking you on an emotional roller coaster ride of musical bliss that will surely make your mouth smile! Probably one of my favorite albums this year from our local music scene, Our Mouths To Smile, by Palm Coast Indie punk rockers, Home Is Where, is one of those rare albums that track 1 is definitely your favorite, until you hear track 2...and so on until the end...repeat! If that isn't enough the next morning in the shower you are humming the trumpet solo from Cicada Summer (true story), Now that's a great musical work! 
Home is where is childhood buddies,Trace George on guitar & Sloppy Joe on drums,both from Hard Rock brother band,The Ned. Fat Slaps O'Brien is on bass, who provides a funky traveling bottom that often assumes the melody and frontman Brandon MacDonald who's chill folky voice is often intersected with black metal shrieks & who captivates his audience with haunting bow on saw solos. Brandon began his musical Journey as producer/artist "Osterman", a trippy psychedelic hip-hop act & together with the others from HIW break all genre rules with a more TIMELESS than trendy sound that is a great example of the very diverse movement of underground rock that is coming out of Florida.
For CREATIVITY a fat 10... They are a spell binding act that will continue to draw a cult following.... you need to see them live, there is so much to take in! For MARKETABILITY a confident 8... their songs are palatable enough to draw the mainstream and odd enough to bring in the outsider! 
Please listen to HOME IS WHERE often...that % of a penny per stream can add up & good numbers can land them bigger gigs. And SHARE their music far and wide....for as with all true artists, this is HIW's main goal...that their art is enjoyed and many mouths will smile! 

THANK YOU for supporting DIY artists. 
Art✌