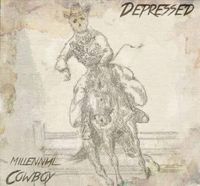 Straightforward Melodies that stick in the head, crunchy guitar riffs, raspy vocals, fuzzy beards with a laid-back "don't give a f attitude" ...it's Southern Fried Punk, served with a side of BEER! 
   Depressed is buddies Sam Equire on lead vocals/guitar and Ty "leadfoot" Leuth on drums who met in High School & together started the band about 2 years ago, adding Zack Jameson on bass shortly after and finally "The Savage" on guitar! 
From small-town Bunnell, DEPRESSED has made a BIG impression on the Florida underground music scene with their amiable personalities(which isn't talked about much, but friendly bands attract fans!)Their entertaining stage shows (Sam wears scary makeup and Zach smashed his bass!) and their authentic/millennial-centric music! When I first heard their debut EP Millennial Cowboy, DEPRESSED made me so HAPPY,(go figure) cuz it took me back to my metal roots,giving nod to Motorhead, (especially with Sam's growly voice) but maybe a more sedated Motorhead ...much better for this old boy who no longer has the need for speed, hehe! 
   This 4 song work begins with ep title Millennial Cowboy, which appropriately gives a "trail riding song" feel that would be spot-on for a modern Blazing Saddles reboot! 
FUN LYRICS... "Now that you know me...let's have a beer or six" 
REFLECTIVE QUESTIONS..."Am I a God or am I a robot?" 
CURIOUS TITLES..."Kim Thayil's Beard" and the very chill & trancy song "Turtle" (can't help to imagine a music video of a turtle simply crossing the street for the full 5 minute 21 seconds of this track with little Turtle thought captions over it's head, hehe...a definite Florida thing!).
Self Recorded by Ty at home-based studio, Broken Step (yes,they literally have a broken step), at Celtic Corners which is owned and operated by Ron and Rebecca Long who have become an integral part of the Rugrat community! This was the site for the first annual RUGSTOCK and home to many future amazing events including a huge Halloween show. Give Millennial Cowboy a listen...be sure to play it on 11! And give DEPRESSED some ?as you FOLLOW them, SHARE their art, SEE them live and give them an encouraging SHOUT out!
Thank you for supporting DIY ARTISTS! 
Art✌