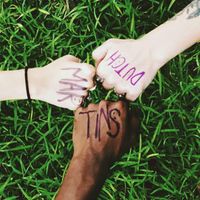 Multiple layers of TRIPPY TREASURES engrossing the ARTSY-CRAFTSY crowd with a smorgasbord of COLORFUL sounds.... Dutch Martin's new release,1939, is never dull & drabby, but is ENGAGING & ENTERTAINING from the musical opener, WINTER SOLSTICE, through the OUTRA......enchanting even the most easily distracted (me!) with a fascinating plethura of STRAINS, TONES, ECHOES & TRILLS, DISSONANCE, MELODY & CURIOUS FRILLS! The band members are also multi media ARTISTS which definitely lends to the well structured Symphony Of Sounds! So much happening for the ear hole, makes it fun to hear again & again, discovering something new with each listen. A big woop! woop! to producer & Full Sail graduate, Luke Leuterio for a stellar job of capturing & arranging the many bits into a TASTY & PALATABLE work. Emerging out of the THRIVING underground music scene in FLAGLER COUNTY Florida, DUTCH MARTIN'S is... Evi  Menshikova on guitar/vocals...who moved to NYC from Russia as a child,relocating to Florida as a teen and since has become a key figure in the LOCAL DIY MUSIC SCENE. Christina Ann on bass/vocals... her trained,BIG STAGE pipes(she is a theater geek) are showcased best in Snail Mail cover, STATIC BUZZ. On drums is the very fun & infectious Derrek.Mason, previously of the beloved Rugrat Fav, PIGEON COLLISION from DeLand.. 
   Self-described as psych/Indie/Alt....DM is yet another CROSS-GENRE band in the ECLECTIC FLORIDA MUSIC SCENE blossoming with many Sub-Genre multiple descriptive word acts... most of these bands began as straight Punk, Metal or Indie-Rock but in The Cauldron Of Suburban Isolation, this ARTISTICALLY  TOLERANT generation brewed up a CREATIVE CONCOCTION of sounds & styles AUTHENTICALLY & PROUDLY THEIR VERY OWN! 
   Young angst, good advice, rage & random silliness... a song in Russian and a melancholy cover of 60's psychedelic band,Turtles' hit, HAPPY TOGETHER!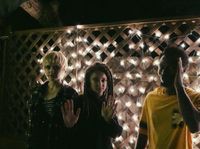 Give 1939 MANY listens & ENJOY the enigma that is DUTCH MARTINS... give them a SHOUT of love, see them LIVE & thank YOU for SUPPORTING DIY musicians! Art✌