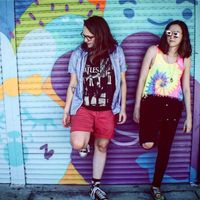 Stripped-down & raw, bluesy rock & roll with clever, cryptic lyrics & a cornucopia of bad ass attitude....Proud Miranda, from Tampa Florida, joins the rise of rock duets with their, in your face, more of a message than a title, "Eve was framed" ep. Recorded live at Illuminator Sound in Clearwater in one long 6 hour session straight through, this under-produced work delivers no-frills, just chills to a minimalist audience that demands nothing less than authentic heart and soul! The power of live recording is in the Real Time Vibe that it captures... as I listened to the EP my first impression was that these cats really enjoy playing music with each other! And you sense their sassy satisfaction of having their own platform to speak on topics that matter to them, including struggles with alcohol abuse, eating disorders, self-worth and sexual orientation. Newlywed rockers, Kate Miller on guitar/vocals & Amanda Miller on drums/vocals draw upon the influences of dynamic artists such as Patti Smith, The Breeders, Liz Phair and Bikini Kill to contribute their own clarion voice and substantial strength to the current GIRL POWER movement which is very prevalent in pop culture (Did you see Toy Story 4? Little Bo Peep is not just saving sheep, she is a kick ass super hero rescuing the toy community!)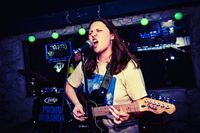 PM's not so subtle approach can be summed up in the smart & sarcastic lines "If we ain't bad bitches then I don't know who is yeah, we are too big for our bridges which we all know is a sin yeah." With a sense of destiny driving them, this dynamic duo is on a life mission to entertain the masses, speak truth to power, encourage the underdog & to have the time of their lives doing it! Give PROUD MIRANDA some love as you STREAM their music, FOLLOW their pages, give them a SHOUT of encouragement, SEE them live & BUY some merch! 
Thank you for your support a DIY artists! 
Art (aka PAPPA NED)✌