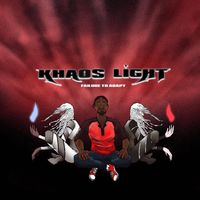 Passionate RAP spit out mostly in 16 notes over a PROGRESSIVE ROCK rhythm section, presented in a THEATRICAL setting with actors, scenes and a vivid story of LIFE ,DEATH & HOPE for those struggling with suicide...Wow! 
   Failure to Adapt, by Khaos Light, has fed my craving for something truly unique with a chock full of creative genius! 
Rap music is not my go-to genre and thus has limited me to being familiar only with the more mainstream Hip-Hop Rap & of course as a Metalhead, I also embraced the Rock Rap movement...but reviewing this album has turned me on to all the many sub-genres of EXPERIMENTAL RAP...and we at Rugrat totally embrace the Experimental, Underground, Outsider, Non-mainstream sub-genres! 
   And so I've been on a Rap Journey over the past couple of days discovering the likes of the very cinematic Flying Lotus, Hamilton star Daveed Diggs of Clipping and even learned of Kanye West's dabbling with prog-rock in his 2010 album where Progressive Rock Legends, King Crimson's "21st century schizoid man" is sampled. 
   Khaos Light is so committed to this union of Rap & Prog that he even covers popular Math/Prog band CHON.
"Dew"- Chon Rap Cover: Khaos Light 
It fits amazingly well and rightfully so. After all, rap is more of a percussion art that uses the TIME value of a note rather than the PITCH value. Therefore it easily follows the many poly rhythms and time signature changes of prog-rock to a tee and isn't affected by the dissonant chords as singing a melody would be -- track 10, Cognitive Dissonance is a good example of this. 
   Failure to Adapt is well produced by Khaos Light's Michael Moody, from Austin Texas, who plays all instruments on the recording and on stage has a live band performing rather than pressing play... Much respect!. 
   And the theatrics! You're not just listening to great music here, but you are thrust into a drama that tackles relevant topics including mental health, suicide & the afterlife. 
This story is especially relative to me and our local music Community, as we have just lost one of our good music buddies to Suicide. I really appreciate Khaos Light's courage to tackle this sensitive topic in such a creative, articulate and passionate way as to help the person who has NOT experienced the torment of depression and anxiety to FEEL a bit of the despair and taste some of the horror and ultimately UNDERSTAND & relate better to the friend or family member who is suffering. I also believe that it will help those who are struggling to know that they are not ALONE, there are people who understand and are so very willing to listen and help, and that there is ultimately  so much HOPE! Thank you Michael!
   For creativity, I give Failure To Adapt a firm 10... I'm A.D.D. so it takes a lot to get & keep my attention... I was hooked from front to finish! 
   For marketability Failure To Adapt will appeal to the underground movement more than the mainstream, but I can see Khaos Light attracting a huge cult following and if he can get this work on stage with live actors and pit band, I believe this can be a very relevant and successful play! 
   Musicians do yourself a favor and give Failure To Adapt a listen... you will appreciate the stellar musicmanship and it will challenge you to push the envelope of your genre and go wherever your creative mind leads you! 
   Please follow Khaos Light, add his songs to your playlist and THANK YOU for supporting DIY/Independent Artists. 
National Suicide Hotline 1800-273-8255
Art ✌